Your Perfect Retirement Solution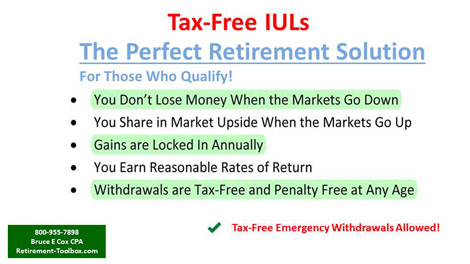 The Perfect Retirement Solution, also known as a Tax-Free Pension Alternative, Living Benefit Life Insurance and a Tax-Free IUL solves this wealth killer by eliminating taxes and penalties on withdrawals.
It has been called the perfect solution because:
You don't lose money when the markets go down!
Share in Market Upside when Markets go up!
Earn Reasonable Rates of Return!
Gains Locked In Annually!
Tax-Free Penalty Free Withdrawals at any age!
Tax-Free Income You Won't Outlive!
More videos at bruceecoxcpa.com tax-free-retirement-plans.com tax-free-income.com and dependable-income.com
Call Bruce E Cox CPA at 800-955-7898 for more information and an illustration.