Tax-Free is Better: Sara's Story Demonstrates the Power of the Tax-Free IUL
Sara 68 understood the Living Benefit Life Insurance concept.  The tax-free death benefit was another plus.
Sara had been stuck in a 1% World of Bank CDs. Worried about stock market losses, Sara kept her money in low yielding Bank CDs.  This impacted her life style and her ability to leave a legacy to her children and grandchildren.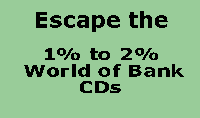 We introduced Sara to the Tax-Free Pension Alternative, also known as living benefit life insurance or the Tax-Free IUL, where you don't lose money when the markets go down. Sara would need $3,400,000 in CDs to generate the same after-tax income that $300,000 invested and accrued for 4 years will produce based on projected returns that are below historical averages. Sara loved this safe income strategy.
Request an illustration and free retirement plan comparison.