Discounted Designer Annuities are paying more than 7x the One year Bank CD rate and more than double the Ten year U.S. Treasury. This Safe Income Option is a great alternative to Bank CDs and Treasuries.  It has been called a CD Killer.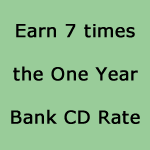 See our post on the Safe Income World Video
If you are stuck in the 1% World of Bank CDs, there are options paying 5% or more, with no downside risk. We call these options our Safe Income Strategies. Explore them.  You will be glad you did.
You can find more information on this site and at